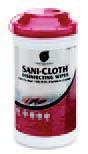 Nice-Pak 7 1/5" X 5 3/8" Sani-Cloth Disinfecting Wipes (200 Per Carton)
Manufacturer : Nice-Pak Products Inc.
Part Number: P22884
Manufacturer: Nice-Pak Products Inc.
Minimum Quantity: 1
Description: What do customers hate worse than a cart with a wobbly wheel? A dirty cart. Worse still, a cart that can potentially spread harmful bacteria and germs from one customer to the next. Left unsanitized, your storesÕ carts are delivery devices for germs like E. coli and Salmonella. Tests performed by labs across the United States confirm these germs Ð spread from dirty hands, dirty diapers, and leaky fresh meat or poultry packages Ð are often present on shopping cart handles and baby seats. YUCK! Sani-Cloth Disinfecting Wipes kill these and other potentially harmful germs, including flu virus.* ItÕs a no brainer: Give your customers the opportunity to kick a little germ butt. TheyÕll reward you with increased store loyalty. ItÕs a win-win (for everybody but the germs)!