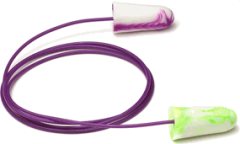 Moldex Single Use SparkPlugs Extra-Soft Foam Corded Earplugs (100 Pair Per Box)
Manufacturer : Moldex-Metric Inc.
Part Number: 6654
Manufacturer: Moldex-Metric Inc.
Minimum Quantity: 100
Description: The SparkPlugs¨ NRR 33 is the highest independently tested NRR available. Their random fun-colors are a great way to put some spark in your hearing protection program. They're the perfect way to let your employees show their love for NASCAR¨ racing. Their extra-soft, extra-light foam and tapered design seal gently and snugly without pressure, while the outer surface is smooth, so it doesn't irritate the ear canal. Bright, fun colors provide easy compliance checks. 100% PVC free. SparkPlugs¨ also come in a metal detectable and corded version.