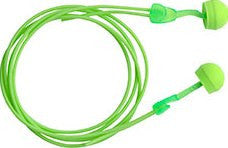 Moldex Multiple Use Glide Pod Shaped Foam Corded Earplugs
Manufacturer : Moldex-Metric Inc.
Part Number: 6945
Manufacturer: Moldex-Metric Inc.
Minimum Quantity: 400
Description: Like a fingerprint, no two ear canals are alike. Glide's unique multi-curved stem rotates for a custom fit inside each ear canal. With its unique curved stem design, you simply push & twist for Glide to angle its way to find your fit.