eagle-four-drum-polyethylene-spill-control-low-profile-pallet-unit-with-grating-and-min-66-gallon-spill-capacity-51-1-2-x-51-1-2-x-10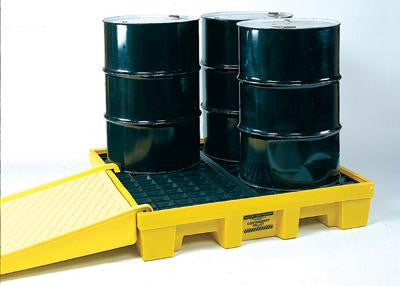 Eagle Four Drum Polyethylene Spill Control Low Profile Pallet Unit With Grating And Min. 66 Gallon Spill Capacity 51 1/2" X 51 1/2" X 10"
Manufacturer : Eagle Manufacturing Company
Part Number: 1645
Manufacturer: Eagle Manufacturing Company
Minimum Quantity: 1
Description: FOUR DRUM LOW PROFILE SPILL CONTAINMENT PALLET These 4-drum low profile spill containment pallets have a 62 gallon spill capacity. Constructed of polyethylene for superior strength and excellent chemical resistance. Each unit includes two patented Eagle poly gratings with 1.75" openings that remove easily for cleaning. Forkliftable design with .75" drain plug. Compatible with the optional 1689 ramp. MODEL 1645 SPECIFICATIONS: SPILL CAPACITY: 62 gallons WEIGHT: 65 lbs. DIMENSIONS: 51.5" x 51.5" x 10" LOAD CAPACITY: 8,000 lbs.