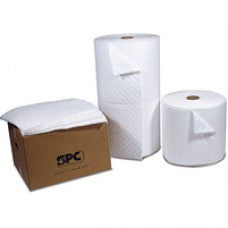 Brady SPC 15" X 150' 2-Ply Top Layer Blue Bottom Layer White Roll Covers Wide Areas Perfed Every 15" For Oil And Petroleum Based Fluids.
Manufacturer : Brady USA
Part Number: SXT15P
Manufacturer: Brady USA
Minimum Quantity: 1
Description: SXT Light Pads is a high performance, oil only sorbent made to handle petroleum-based spills. Remains intact even when saturated. Spunbond coverstock on both sides offers maximum durability and very low linting, both abrasion-resistance and non-abrasive performance, ideal for workstations involving the wipe down of tools or component parts, the extra strength required for wringing and re-using of sorbents. 3-ply construction double-sided, low-linting coverstock and meltblown core light weight perfed pads. Premium extra-tough oil only pads and rolls.