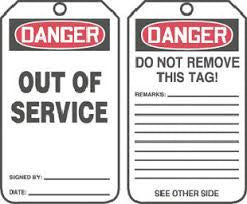 Accuform Signs 5 7/8" X 3 1/8" Red, Black And White RP-Plastic Two Sided Safety Tag "Danger Out Of Service/Danger Do Not Remove This Tag! Remarks ..."
Manufacturer : Accuform Signs
Part Number: MDT246PTP
Manufacturer: Accuform Signs
Minimum Quantity: 1
Description: Accuform Signs RP-Plastic Tags are high-strength, tear-resistant, weather-resistant, and chemical-resistant for dirty and greasy environments. 15-mil thick rigid plastic, relatively bendable and ideal for indoor and outdoor temporary tagging applications. Mar-resistant, matte surface. 3/8" hole w/ reinforced metal grommet.